Australian Grand Prix
Race information
Number of times held
11
First held
Season 1

Most wins (drivers)
Joseph Gilson (3)
Most wins (constructors)
SCR (3)
Circuit length
5.303 km
The Australian Grand Prix is a GPGSL event held at the Albert Park circuit in Melbourne. Having been held at Adelaide in Season 1, the event moved to Melbourne for Season 2 and since then, the event has been the season-opener on the calendar. It has also become one of seven circuits that is guaranteed a permanent slot on the calendar.
Notable events
The Season 1 race in Adelaide was the season finale and decided the championship in favour of Philip Oakley. The event was also notorious for being red-flagged after 11 laps due to track issues.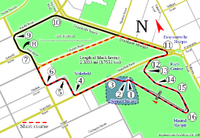 Winners
See also
Ad blocker interference detected!
Wikia is a free-to-use site that makes money from advertising. We have a modified experience for viewers using ad blockers

Wikia is not accessible if you've made further modifications. Remove the custom ad blocker rule(s) and the page will load as expected.