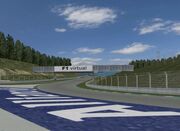 Boromo Superveloz is a mysterious permanent race track, located somewhere on this planet (probably). It hosted one Grand Prix in Season 8, which was was known as the Burkina Faso GP, the West African GP, the Boromo GP and ultimately the South American GP at various times during the season. Despite the uncertainty of its whereabouts, all drivers got to the track in time for the race. Stefan van Renselaar took the win, marking the first GPGSL win for One Racing.
Statistics
Ad blocker interference detected!
Wikia is a free-to-use site that makes money from advertising. We have a modified experience for viewers using ad blockers

Wikia is not accessible if you've made further modifications. Remove the custom ad blocker rule(s) and the page will load as expected.