British Grand Prix
Race information
Number of times held
10
First held
Season 1

Most wins (drivers)
Ruben Greidanus (3)
Most wins (constructors)
Team Shadow (4)
Circuit length
5.891 km
The British Grand Prix is one of the longest running events on the GPGSL calendar, having appeared in every season thus far. It is also now guaranteed a slot in every GPGSL season along with six other tracks. From Seasons 2 to 9, the event was the season finale on the GPGSL calendar.
The event is held at Silverstone Circuit, and has used three different configurations. From Season 1 to Season 7, the 2001 layout was used, in Season 8 and Season 9 the new Arena (2011) layout was used and in Season 10 the Classic (1987) layout will be utilised.
Notable events
In its role as season finale, the British Grand Prix has decided the championship title in Seasons 3, 4 and 9.
In Season 8, Ruben Greidanus won his third consecutive race in the event.
Winners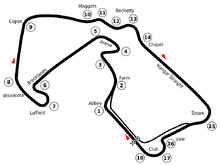 See also
Ad blocker interference detected!
Wikia is a free-to-use site that makes money from advertising. We have a modified experience for viewers using ad blockers

Wikia is not accessible if you've made further modifications. Remove the custom ad blocker rule(s) and the page will load as expected.