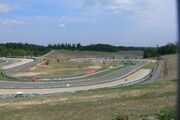 The Masaryk Circuit, nowadays referred to as the Brno Circuit, is a permanent race track located near Brno, Czech Republic. It has been part of the GPGSL calendar twice, the last time in Season 9. The race held in Season 2 saw Charrel Jalving taking his first win, in only his second career race. It also was the last win for Double F.
Statistics
Ad blocker interference detected!
Wikia is a free-to-use site that makes money from advertising. We have a modified experience for viewers using ad blockers

Wikia is not accessible if you've made further modifications. Remove the custom ad blocker rule(s) and the page will load as expected.