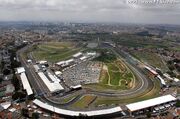 The Autódromo José Carlos Pace, also known by its former name Interlagos, is a permanent race track in São Paulo, Brazil. Since Season 2 it hosts the Brazilian Grand Prix. Record winners are Ed Greenhalgh, Marko Aleksander, and Tobias Kederer, each of them with 2 wins.
In the Season 6 race, John Warrington crossed the line as first, but was handed a 12.5s penalty for failing to pit twice, demoting him to second.
Statistics
Ad blocker interference detected!
Wikia is a free-to-use site that makes money from advertising. We have a modified experience for viewers using ad blockers

Wikia is not accessible if you've made further modifications. Remove the custom ad blocker rule(s) and the page will load as expected.