ItalianEnglish Dynamics (formally ItalianEnglish Racing) are a racing team formed in 2008, owned by Ryan Gault. They have so far raced in every GPGSL race, but are set to withdraw from the series at the end of the fifth season.
ItalianEnglish Dynamics have won six races, with two pole positions.
Racing History
Season 1
ItalianEnglish Racing's first line up saw two Dutchmen in the team, Ricardo van Smirren and Rick Groeneboer. Opted with the high numbers of #3 and #4, high expectations were placed ahead of the first race.
But the season would be to peak in Austria, a fine drive from van Smirren, despite a mistake in which he pitted one more time than he should have, saw IER on the podium in the first race. It was a disaster for Groeneboer, who collided with Paul Willins and finished low down the order.
It was van Smirren who would collect the majority of the teams points, with a succession of lower point scoring finishes in the first six races.
Groeneboer on the other hand struggled, only getting the one points finish in that time, a decent 6th place in Canada, his only decent performance of that season.
The final four races were ones to forget for the team, as van Smirren would go on to retire in Belgium, Italy, Japan and Australia, while Groeneboer only managed points in the shortened race in Australia.
ItalianEnglish Racing would finish 10th in the Constructors Championship, with Ricardo van Smirren 11th and Rick Groenenboer 22nd (and last) in the Drivers Championship.
Season 2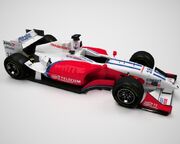 To the surpirse of some, ItalianEnglish retained the same two drivers for the following season. As part of the allowance of test drivers, Gault hired Zak Tonks and Christopher Hinz to compete in practice sessions. However, the team dropped Alfa Romeo engines, opting for Maserati instead. As well as this, the livery was radically different, a more bland approach was made, with white and red rather than the black and green.
It was a decision which paid off for Groeneboer, and within the second race he had scored his first career podium, a stunning third in the wet conditions at Monaco. However, after that race he was to have a new team mate, as Ricardo van Smirren moved to a test role at Team Shadow Subaru. He was to be replaced by Tonks, in a shootout with Hinz at the Monaco practice session.
Tonks soon proved to be a fast one lap driver, often securing high qualifying performances. He settled into the role soon after, as a relative rookie he rarely impressed out on track, aside from his four points finishes. Groeneboer improved on his last season, but ultimately the car was not good enough, a woeful second half of the season saw IER get into the points just twice, that coming in two of the final three races of the season.
The high point without a doubt though was Groeneboer's superb pole position lap at his home race in the Netherlands, he set a time 0.041seconds quicker than compatriot Nick van der Voort. Despite this, he was unable to capitalise and finished low down the order.
Despite more points being scored, IER finished once again in 10th.
Season 3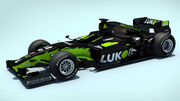 In a surprising move, Ricardo van Smirren returned to the renamed ItalianEnglish Dynamics for season 3, once again to partner Rick Groeneboer. The team switched to Bridgestone tyres ahead of the new chassis being unveiled by Snake Motorsports.
And they were to be quick to adapt to the new chassis, with a far better season than the previous two. It started with a win for van Smirren in the season opener at Melbourne, and then following it up with another win at Indianapolis. Points were being scored by both drivers and things were generally looking up for IED.
The momentum was stopped abruptly by a two double retirements in a row, in the Netherlands and Belgium. But, despite fears the season was going off the rails, what followed was a sensational race in Malaysia. Despite being 30seconds behind the race leader going into the final lap, Rick Groeneboer, with the help of the weather, strategy and ballsy driving, managed to pull off a spectacular win, his first ever win after two and a half seasons of trying.
Consistant points were to follow, and without doubt, the form team at the end of the season. Another win for Groeneboer at Interlagos was followed by ItalianEnglish's first ever 1-2, with van Smirren winning at Monaco. A last race podium by van Smirren ensured that the team finished 3rd in the constructors, ahead of rivals Velox.
Season 4
Ricardo van Smirren left the team for good at end of of season 3, opting to ride for his own outfit VanSmirren Motorsports. To replace him was the first female in GPGSL and a race winner in season 1 Keeley Grant, partnered once again by the loyal Groeneboer.
It was a much slower start to the season however, but a podium by Grant at the European Grand Prix kick started the season. From then on, IED were frequenters in the upper end of the point scoring positions, which culminated in three 2nd place finishes for Groeneboer (Brazil, USA and Canada) and a race win for Keeley Grant at Indianapolis, as part of a 1-2.
In the end, despite it not being as successful a season, the team were virtually set for fourth place in the constructors all season, not good enough for the top 3 battle, but better than to scrap around with the others below.
Season 5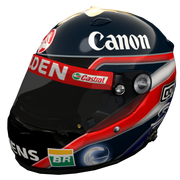 It was full change for IED in time for season 5, both Rick Groeneboer and Keeley Grant moved to VanSmirren Motorsports, in their place came season 4 Test Driver Champion Zsigmond Somogyi, as well as Jethro Walters, a driver whose career had stagnated before the move.
Despite Somogyi scoring well in the first few races, Walters struggled, and post Japan, so did the Hungarian. It proved to be a struggle for ItalianEnglish Dynamics, after the highs of the previous two seasons, rooted to the bottom of the Championship for a long period.
The only high would come from the Canadian Grand Prix, where Jethro Walters timed his pitstops to perfection to record (to date) the solitary podium of the season.
It was decided by Ryan Gault that the team would retire at the end of the season, after admitting his interest in the series was dying.
Complete GrandPrixGames Super League results
(key) (Races in bold indicate pole position; races in italics indicate fastest lap; underlined races indicate most places gained)
Season
Chassis
Engine
Tyres
Drivers
1
2
3
4
5
6
7
8
9
10
11
12
13
14
15
16
17
Points
WCC
1
SMD-300
Alfa Romeo

B




D

AUT
BRA
MON
CAN
GBR
GER
BEL
ITA
JPN
AUS
41
10th
Rick Groeneboer
21
Ret
15
6
Ret
Ret
17
18
14
10
Ricardo van Smirren
3
10
10
8
7
10
Ret
Ret
Ret
Ret
2
SMD-300
Maserati

D

AUS
MON
BEL
ESP
BRA
JPN
AUT
USA
NED
CAN
ITA
GER
SMR
CZE
TUR
GBR
52
10th
Ricardo van Smirren
20
13
Zak Tonks
Ret
15
19
5
9
9
15
14
14
Ret
21
9
16
18
Rick Groeneboer
19
3
7
10
15
8
21
15
16
21
15
17
18
13
22
6
3
SMD-ZG01
Maserati

B

AUS
GER
USA
CAN
EUR
SAM
NED
BEL
MAL
ENG
HUN
ITA
JPN
SMR
BRA
MON
GBR
193
3rd
Rick Groeneboer
5
9
19
8
13
8
Ret
Ret
1
4
9
8
20
4
1
2
11
Ricardo van Smirren
1
14
1
6
12
9
Ret
Ret
16
Ret
3
4
12
7
11
1
2
4
SMD-ZG01
Maserati

B

AUS
ITA
BEL
JPN
EUR
MON
PAC
RSA
HUN
GER
BRA
UAE
MAL
USA
CAN
NED
GBR
155
4th
Rick Groeneboer
12
13
18
8
Ret
10
8
5
13
Ret
2
9
6
2
15
Ret
2
Keeley Grant
5
16
Ret
12
2
9
5
10
4
5
Ret
Ret
Ret
1
9
11
8
5
SMD-ZG01
Maserati

D

AUS
FRA
JPN
BEL
ESP
BRA
GER
NED
EUR
ITA
CAN
UAE
PAC
USA
MON
TUR
GBR
64
9th
Jethro Walters
17
Ret
19
Ret
14
10
13
10
10
9
2
20
15
19
17
17
20
Zsigmond Somogyi
12
5
5
Ret
20
13
5
Ret
17
16
21
8
7
17
16
20
15
Ad blocker interference detected!
Wikia is a free-to-use site that makes money from advertising. We have a modified experience for viewers using ad blockers

Wikia is not accessible if you've made further modifications. Remove the custom ad blocker rule(s) and the page will load as expected.