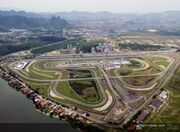 The Autódromo Internacional Nelson Piquet (also known as Jacarepaguá) is a permanent race track in Rio de Janeiro, Brazil. It hosted the Brazilian Grand Prix in Season 1, before the event moved to Interlagos. 3 more races were held here after that, now being run as the South American Grand Prix. Philip Oakley is record winner, having won the race in Season 2 and Season 3.
Statistics
Ad blocker interference detected!
Wikia is a free-to-use site that makes money from advertising. We have a modified experience for viewers using ad blockers

Wikia is not accessible if you've made further modifications. Remove the custom ad blocker rule(s) and the page will load as expected.