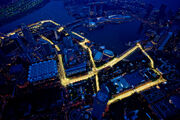 The Marina Bay Street Circuit is a temporary street circuit around Singapore's Marina Bay. To date, it hosted one GPGSL race, the Singapore Grand Prix in Season 8. Ben Johnson took his only career win, shortly before retiring from racing.
Statistics
Ad blocker interference detected!
Wikia is a free-to-use site that makes money from advertising. We have a modified experience for viewers using ad blockers

Wikia is not accessible if you've made further modifications. Remove the custom ad blocker rule(s) and the page will load as expected.