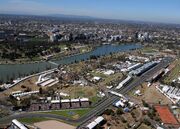 The Albert Park Circuit (or Melbourne Grand Prix Circuit) is a temporary street circuit around Albert Park Lake in Melbourne, Australia. Since Season 2 it hosts the Australian Grand Prix and is the opening round of the season. With 3 wins Joseph Gilson is the only driver who could win the race more than once.
Statistics
Ad blocker interference detected!
Wikia is a free-to-use site that makes money from advertising. We have a modified experience for viewers using ad blockers

Wikia is not accessible if you've made further modifications. Remove the custom ad blocker rule(s) and the page will load as expected.