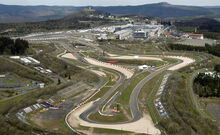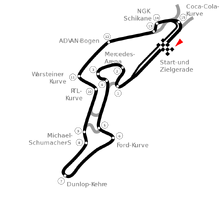 The Nürburgring is a famous race track located near the village of Nürburg in Germany. The circuit has hosted three events on the GPGSL calendar, all under different titles as the German Grand Prix title has frequently been unavailable due to regular races at Hockenheim.
The three Nürburgring have been held on two different layouts, the F1-style GP-Strecke and the hybrid Kleine Nordschleife circuit. No driver or team has managed to win multiple races at the circuit.
Statistics
Ad blocker interference detected!
Wikia is a free-to-use site that makes money from advertising. We have a modified experience for viewers using ad blockers

Wikia is not accessible if you've made further modifications. Remove the custom ad blocker rule(s) and the page will load as expected.