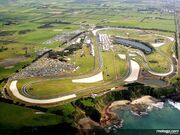 The Phillip Island Grand Prix Circuit is a permanent race track located on Phillip Island, an Australian island about 140km south-southeast of Melbourne. It hosted the Oceanian Grand Prix in Season 7, where John Maverick took his only win while in the service of Martini Paddock Racing.
Statistics
Ad blocker interference detected!
Wikia is a free-to-use site that makes money from advertising. We have a modified experience for viewers using ad blockers

Wikia is not accessible if you've made further modifications. Remove the custom ad blocker rule(s) and the page will load as expected.