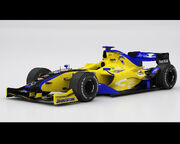 ScalaGP is a GrandPrixGames SuperLeague team,formerly called TafuroGP. It's owned by Matteo Scala,formerly Paolo Tafuro. They started racing in
Season 5
by taking over Devil Fox Racing's structures.
Season 5
Their first official contender, the TGP001, was presented some weeks before the Season 5 start, featuring Mercedes Benz engines and Bridgestone tyres.
The race drivers were Rodrigo Vilela and Florian Fischeder, while the teamboss went to fill the main tester seat. The other seat was filled by William Ward for first two races, he was then replaced by Gianluigi Silvestre, who made his debut in the series in Season 5.
With Fischeder's retirement during the season, Silvestre was promoted to race driver and Joseph Gilson made his debut as tester at Monaco. The team had a good start, but kept loosing important points during the season, and as consequence of this team gets a 9th place in the WCC.
Season 6
For Season 6 TafuroGP signs the former two WDC winner Philip Oakley as 1st Race Driver and confirms Gianluigi Silvestre as 2nd Race Driver. Joseph Gilson gets confirmed on the testing role, together with the new comer Jake Legge. The TGP002 brings a new livery, with less black on the nose. At the first race, in Melbourne, Philip Oakley gets the first GPGSL race win for the team, after having started from the 2nd place.In Monza Oakley is still on points,while in Canada a loose wheel makes him retire when he was going to get points.In Hungary the team gets his first double points finish in S6 with Silvestre 5th(first points for him in S6 too) and Oakley 8th.In the following race,at Laguna Seca,Silvestre finishes 6th,while his team mate finishes the race in 16th place.At Zandvoort,Silvestre leads the race for a lot of time,but at the end he has to surrender to Sheppard,who wins the race,and Vilela,because of a serious risk of engine failure(as it was used since Hungary,since a big part of the team budget has been used to keep working on the upcoming track that the team will use for private testing sessions).Oakley arrives 12th and takes a point.From Imola they should have some new units,that mean that they may get in the top 4 in the WCC,as far as they recover Oakley to his old form...
But at the end,they arrive 7th in the WCC,just some points behind SCR.Oakley has been replaced by Tobias Kederer for two races,then he was sacked and his seat went to Jake Legge.
Season 7
Following the best season for the team so far,the teamboss announce the swap from TafuroGP to ScalaGP,following his decision to start using his real name in the series.After having announce the confirm of Gianluigi Silvestre as 1st race driver and the new arrival of Zsigmond Somogyi as 2nd race driver,of Ricardo Van Smirren and Jake Legge as testers,the team seemed to have an official lineup for S7.By the way,following Tafuro's farewell from MPR,Jake Legge was sacked at his time to give his seat to the teamboss,but the arrival of new rules forced the teamboss to sack Van Smirren too,as two teambosses can't test for the same team.So,the teamboss will test again for his team,and his team mate will be Juliano Muller,as Legge has been already signed by ART.
Complete GrandPrixGames Super League Results
(key) (Races in bold indicate pole position; races in italics indicate fastest lap; underlined races indicate most places gained)
Season
Engine
Tyres
Drivers
1
2
3
4
5
6
7
8
9
10
11
12
13
14
15
16
17
Points
WCC
5
Mercedes

B

AUS
FRA
JPN
BEL
ESP
BRA
GER
NED
EUR
ITA
CAN
UAE
PAC
USA
MON
TUR
GBR
67
9th
Rodrigo Vilela
3
18
12
19
8
19
8
9
20
13
7
18
13
18
Ret
22
16
Florian Fischeder
4
Ret
9
16
13
8
16
17
21
Ret
18
13
Gianluigi Silvestre
3
12
15
6
19
6
Mercedes

B

AUS
ITA
CAN
HUN
USA
NED
SMR
GER
JPN
SAM
ATL
AUT
MON
FRA
BEL
BRA
GBR
121
7th
Philip Oakley
1
8
Ret
8
16
12
14
13
14
9
15
10
11
Tobias Kederer
15
13
Jake Legge
Ret
10
Gianluigi Silvestre
13
17
Ret
5
6
3
18
16
4
12
13
7
6
4
6
5
6
7
Motori Moderni

B

AUS
GCO
JPN
CAN
USA
FRA
NED
BEL
SUI
ITA
SMR
BRA
OCE
AUT
HUN
GER
GBR
24
11th
Gianluigi Silvestre
8
16
20
13
13
14
17
8
15
18
10
18
14
Juliano Muller
18
12
Sebastian Nell
14
11
Zsigmond Somogyi
15
Ret
14
14
12
19
19
10
15
16
Ret
11
15
12
16
12
16
Ad blocker interference detected!
Wikia is a free-to-use site that makes money from advertising. We have a modified experience for viewers using ad blockers

Wikia is not accessible if you've made further modifications. Remove the custom ad blocker rule(s) and the page will load as expected.