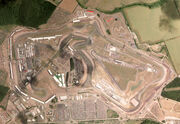 The Silverstone Circuit is a permanent race track in Silverstone, England. It's one of 5 tracks which held a Grand Prix each season. From Season 2 to Season 9 it was the final race of the season. 3 different layouts have been used for the races: Up to Season 7 the races were held on the Bridge GP Circuit. In Season 8 and Season 9 the new Arena layout was introduced, making the track about 800m longer. For Season 10 the Classic GP layout will be used, being the shortest of the 3 configurations. Ruben Greidanus is record winner on this track, having won 3 consecutive races from Season 6 to Season 8.
Statistics
Ad blocker interference detected!
Wikia is a free-to-use site that makes money from advertising. We have a modified experience for viewers using ad blockers

Wikia is not accessible if you've made further modifications. Remove the custom ad blocker rule(s) and the page will load as expected.