South American Grand Prix
Race information
Number of times held
4
First held
Season 2
Last held
Season 8
Most wins (drivers)
Philip Oakley (2)
Most wins (constructors)
no repeat winners
Circuit length
6.039 km
The South American Grand Prix is the title of an additional GPGSL event held in Brazil. The event has been held four times in total, three times at Jacarepaguá and once at the Boromo Superveloz.
Winners
† - The title of the Boromo event in Season 8 is disputed, as the event was also known as the Burkina Faso GP, the West African GP and the Boromo GP at various times during the season.
Gallery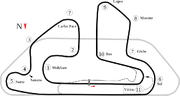 Ad blocker interference detected!
Wikia is a free-to-use site that makes money from advertising. We have a modified experience for viewers using ad blockers

Wikia is not accessible if you've made further modifications. Remove the custom ad blocker rule(s) and the page will load as expected.