Southern Cross Racing (formerly Lucky Seven Racing)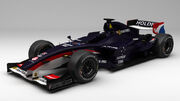 Team Owner Mal Stoddart (mortal)
Team Engine: Renault
Team Tyres: Bridgestone
Cars painted by Greg O'Brien.
Team Line-up:
Race Driver 1: #1 #34 Joseph Gilson (Addrodoc)
Race Driver 2: #2 Nick Worseling (NickJW)
Test Driver 1: #33 Maikel de Boer (MDBSnake)
Test Driver 2:
SCR commenced racing in season 5 after buying out Lucky Seven Racing at the close of Season 4.
A combination of good drivers and team strategy has seen SCR perform above average this season.
Mid Season 10 test driver Nick Worseling took over Joseph Gilson's race seat due to penalties received by Joseph Gilson.
Complete GrandPrixGames Super League Results
Edit
(key) (Races in bold indicate pole position; races in italics indicate fastest lap; underlined races indicate most places gained)
Season
Engine
Tyres
Drivers
1
2
3
4
5
6
7
8
9
10
11
12
13
14
15
16
17
18
Points
WCC
5
Holden

B

AUS
FRA
JPN
BEL
ESP
BRA
GER
NED
EUR
ITA
CAN
UAE
PAC
USA
MON
TUR
GBR
197
3rd
Ross Cartwright
21
10
17
3
4
7
18
Ret
3
1
10
14
1
1
Ret
16
17
Dean Kittleson
11
4
8
5
19
3
1
2
7
6
1
16
Ret
4
11
18
8
6
Holden

B

AUS
ITA
CAN
HUN
USA
NED
SMR
GER
JPN
SAM
ATL
AUT
MON
FRA
BEL
BRA
GBR
128
6th
Dean Kittleson
3
Ret
9
4
4
18
17
14
15
4
16
Daniel Thomas
8
13
3
Ret
12
8
Ross Cartwright
7
3
Ret
19
15
15
Ret
Ret
3
6
17
4
8
Ret
5
7
11
7
Holden

B

AUS
GCO
JPN
CAN
USA
FRA
NED
BEL
SUI
ITA
SMR
BRA
OCE
AUT
HUN
GER
GBR
80
9th
Ross Cartwright
17
5
19
5
Ret
13
14
Ret
7
7
14
7
12
10
Ret
9
8
Daniel Thomas
14
15
15
10
10
8
Ret
Ret
5
11
5
16
Ret
15
15
10
17
8
Holden

B

AUS
SOA
SIN
MAL
JPN
CAN
SAM
BRA
BEL
GER
AUT
SMR
ITA
MON
FRA
LUX
GBR
394
6th
Ross Cartwright
8
2
4
10
10
20
5
18
9
9
5
12
17
8
Ret
Ret
16
Joseph Gilson
1
8
7
Ret
Ret
8
13
15
14
6
8
2
10
14
12
Ret
12
9
Holden
Renault

B

AUS
JPN
MAL
RSA
ESP
CAN
USA
BRA
BEL
EUR
NED
ITA
AUT
CZE
GER
FRA
GBR
213
2nd
Ross Cartwright
5
13
4
13
Ret
20
7
4
8
5
5
6
6
Ret
Ret
16
3
Joseph Gilson
1
6
1
14
1
6
5
3
5
3
7
17
3
4
1
17
11
10
Renault

B

AUS
PAC
MAL
JPN
UAE
ITA
AUT
EUR
CAN
USA
BRA
RSA
OCE
GER
BEL
NED
GBR
FLE
60
9th
Joseph Gilson
4
9
9
10
8
Ret
10
Ret
10
17
Nick Worseling
6
Ret
Ret
11
Ret
17
16
20
Ross Cartwright
20
15
Ret
Greg O'Brien
Ret
14
5
12
3
9
7
15
19
Ret
Ret
Ret
Ret
21
15