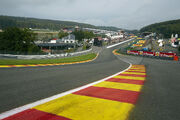 The Circuit de Spa-Francorchamps is a famous permanent race track located near Francorchamps, Belgium. The race here is a regular event in the GPGSL calendar, and it's one of only 5 tracks which have been part of the calendar each season. Arriving at the track in Season 9, Ed Greenhalgh held a series of 3 wins in a row on this track, Aston Martin Racing had won the last four races. The Aussie was set to take his fourth win, now in the service of Martini Paddock Racing, when AMR's Jack Elleker push him off in the final corner of the final lap, taking the 5th win in a row for AMR.
Statistics
Ad blocker interference detected!
Wikia is a free-to-use site that makes money from advertising. We have a modified experience for viewers using ad blockers

Wikia is not accessible if you've made further modifications. Remove the custom ad blocker rule(s) and the page will load as expected.