Spanish Grand Prix
Race information
Number of times held
4
First held
Season 2
Last held
Season 11
Most wins (drivers)
no repeat winners
Most wins (constructors)
no repeat winners
Circuit length
4.730 km
The Spanish Grand Prix is an occasional event on the GPGSL calendar. The event was first held at Barcelona in Season 2 and saw Ed Greenhalgh take the first win of his career. The event returned to Barcelona in Season 5 before moving to Jerez for Season 9. In Season 11 Barcelona hosted the race once more.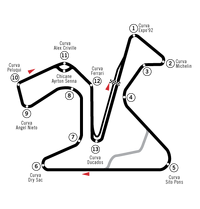 Winners
Ad blocker interference detected!
Wikia is a free-to-use site that makes money from advertising. We have a modified experience for viewers using ad blockers

Wikia is not accessible if you've made further modifications. Remove the custom ad blocker rule(s) and the page will load as expected.