Team RAC
Full name
Team RAC
Base
United Kingdom
Team principal
Paul Willins
Noted drivers
Bobby Neil
Paul Willins
GPG Super League career
Debut
S1 Austrian GP
Races competed
1
Race victories
0
Pole positions
0
Fastest laps
0
Final race
S1 Austrian GP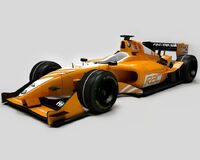 Team RAC is a former GPGSL team owned by Paul Willins. They held the record for fewest race appearences, as they only showed up for the first race of Season 1, and were never seen again after that. The record is now held by Pulsar Racing Team, which was supposed to enter in Season 11, but had to withdraw before the season even started.
Complete GrandPrixGames Super League Results
(key) (Races in bold indicate pole position; races in italics indicate fastest lap; underlined races indicate most places gained)
Season
Engine
Tyres
Drivers
1
2
3
4
5
6
7
8
9
10
Points
WCC
1
BMW

D

AUT
BRA
MON
CAN
GBR
GER
BEL
ITA
JPN
AUS
0
12th
Bobby Neil
16
Paul Willins
22
Ad blocker interference detected!
Wikia is a free-to-use site that makes money from advertising. We have a modified experience for viewers using ad blockers

Wikia is not accessible if you've made further modifications. Remove the custom ad blocker rule(s) and the page will load as expected.