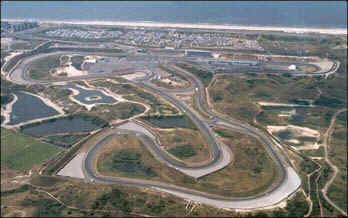 Circuit Park Zandvoort
has hosted the
Dutch Grand Prix
six times in the history of the GPGSL.
History
Zandvoort's first race was in Season 2. In Season 5, Zandvoort lost the hosting rights of the Dutch Grand Prix in favour of Assen due the amount of accidents in the Season 4 race. Zandvoort was even put on a blacklist and would supposedly never return on the calendar. Thanks to some necessary changes to the track, Zandvoort was given the green light to host the Dutch Grand Prix once again in Season 6. The race was run without any big accidents and returned to the calendar in Season 7. After a season off the calendar, it returned to host the Dutch Grand Prix in Season 9 and Season 10.
Statistics
Trivia
Zandvoort is John Maverick's favourite circuit. This revelation was made at Monza where he was spotted with a "I <3 ZANDVOORT" t-shirt.
Ad blocker interference detected!
Wikia is a free-to-use site that makes money from advertising. We have a modified experience for viewers using ad blockers

Wikia is not accessible if you've made further modifications. Remove the custom ad blocker rule(s) and the page will load as expected.